Mahashakti Peetam

Creation of this Moksha Peetam

It is normal practice that a temple is built by all the people in a village/town or it could be built by collecting donations or several wealthy people can come to together and built a temple. It is easier also. But, that money would have sinful stains, as it may have come through bribes, falsehoods, cheating and treachery.

Hence, Bhagawan Maha Avatar Shree Sathyam did not use other people's money. He worked like a common man and earned the money by his own hard work. With that, he slowly built this "Shri Mahashakthi Karma Vimochana Peetam" which you are seeing today and this is a new spiritual history.

Sabarimala, Thiruvanamala, Marudhamala & Tirumala were not discovered by scientists. They were discovered by saints. Today they are places which help people to mature as well as being beneficial to them. In this list, Yelagiri Hills has been discovered by Shreesathyam Bhagawan and currently the Sri Mahashakthi Sannidhi provides benefits to people as a divine sannidhi.

Sri Mahashakthi - Represented as Divine Feet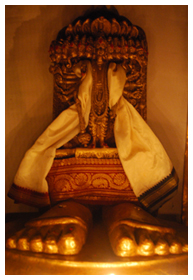 This Sri Mahashakthi is the Supreme Being – the complete universe, the origin and sanctuary of everything. To have darshan of this Sri Mahashakthi is equivalent to the benefit of having a darshan of all the Gods in the world at the same time.


Nataraja and Yamaraja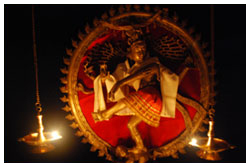 Nataraja to the believers and Yamaraja to the non-believers!! The Sri Maranadevar sannidhi where He is in obedience to the very powerful Sri Natarajar, which cannot be found anywhere else in this world. The movement you step inside and get a darshan, incurable diseases, unknown ailments and the effects of any evil spirits will disappear. Your life span increases!!


Mantra Mahalakshmi, Lord Narayana and Ashtalakshmis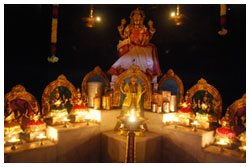 When Lord Narayana goes in search of goddess Lakshmi, the place where he sets his feet first is where Mantra Mahalakshmi gives darshan. Lord Narayana as the "provider" and the Ashtalakshmis who give the eight "Aishwaryas" give darshan here. We should not chase money, money should chase you is the Sathya Shastra, based on which the secrets and intricacies of wealth are explained in the Sannidhi. Money is given as an offering to devotees on every full moon day.